Fish, cheese, onions, leeks and melons will no longer turn up your nose when you open the fridge!

The Mister Magic® fridge odor absorber neutralises unpleasant odours instantly and safely thanks to its gel formula made from natural extracts.
It doesn't affect your food and takes care of the environment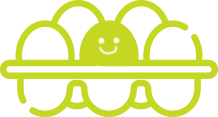 THE ONLY EGG-SHAPED PRODUCT
designed to fit easily into
the egg shelf and keep out
of the way.